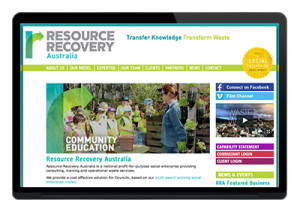 Resource Recovery Australia (RRA) is  just one of those special clients. We love everything about them: how they work, what they do and what they stand for.
RRA is a national profit-for-purpose social enterprise providing consulting, training and operational waste services. Their solutions deliver economic, social and environmental benefits to local communities.
So to help design the interface for their website was a project close to our hearts.
BKA+D also designed a range of stationery and marketing materials, from flyers to business cards to posters, as well as templates for documents produced in-house.
Together we are always trying to work on cost effective solutions with the least environmental impact.